It's Mother's Day Mania over at
Mama M's
and today's theme is "Whoopsie Wednesday!"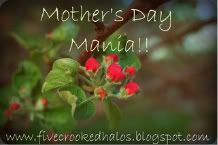 Abby is only a year and I can see that there will be many "whoopsies" to come but so far my biggest "whoopsi" happened a few weeks ago. For some reason, Abby has decided that she doesn't like baths anymore. She used to love them but ever since she started walking she doesn't like to sit in the tub. There are days that I think the best option is to let her run outside and use the hose to spray her down.
So, on this particular "whoopsie" day, she was running away from me and face planted right into the frame of my bed. Not a good thing at all, she had a huge goose egg on her forehead, but really not my fault. It was an accident... an "oopsi" not a "whoopsie"!
Once she was calm and I was sure there wasn't any brain damage, we went through the battle of bath time. As you can imagine, this was especially tough because she was grumpy from her head bump. So, I bathed her as quick as possible and while she standing (which drives me crazy) I rinsed her and scooped her out of the tub.
Here's my "whoopsie" moment.... I forgot to put the bath mat on the floor! At this point my daughter would love nothing more than to run around naked and get as far away from me as possible.
Here's the breakdown: No Bath Mat + Wet Baby Trying to Escape = Slippery Floor = Big "Whoopsie"!
I wasn't thinking, just trying to get her in and out quickly but, man, did I feel horrible! Completely avoidable and now she had matching eggs: one on the front and one on the back! Thankfully, there's still no evidence of brain damage!
Pop on over to Mama M's to share your "Whoopsie" Moment!