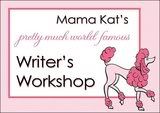 Ahh, an excuse to write about my amazing mom! This week I've decided to take part in the writer's workshop over at Mama Kat's. I've chosen the 5th prompt: What is the secret behind the close bond you have with your mom? Click her button to jump in on the fun and read the other 4 prompts you can choose from.
My Mom passed away this past July and until then I never fully grasped just how close we were. I realize now, that she was my best friend. She was the only person who actually cared to hear about all the mundane details in my daily life. We spoke everyday, usually on my hour ride home from work. But what's truly amazing, is that after she passed I realized that she was a best friend to all 5 of us. I don't think there's one secret way to establish such a tight bond. All of us are so different and I'm sure that her approach was different with each of us. Regardless, the one thing that was the same is the fact that we all felt safe enough to tell her just about anything. Of course, the relationship with all of us went through it's season and I in no way mean to imply that it was all a bed of roses. Some of us put her patience to the test (not me, I have my own halo) but we always found our place back home with our best friend, our mom.


Though each relationship was slightly different, I think there is a couple common factors in all of our relationships with her. The first, honesty. She was the most honest and up front person I know. It was easy for her to be honest because she couldn't keep anything secret. When I found out I was pregnant, I told her to keep it quiet for a little while. Well, the only way she could keep it a secret from her sister was to avoid talking to her completely. After a few days I gave her permission and could hear the relief in her voice! She was just as honest about herself. I can't remember a time when she refused to answer something, even if it was about a less than angelic behavior.




Her honesty led to our honesty and created an open environment, which I think is the second key ingredient to a close relationship. There were very few things I didn't tell my mom. There were some things I'm sure she would rather not know and there were some things that were a little uncomfortable to share, but I did and she listened. She was our safe say anything zone and not just for us. Friends and cousins would come by and talk to her when they couldn't talk their own parents. She was just that kind of lady.




Finally, I think the most important reason we were all so close to my mom was because she didn't judge. She would tell you how she felt but you never felt like she looked at you any differently. She was also very quick to forgive and let things go.




Although I miss her everyday, I am so grateful to have been born to such a wonderful woman. She was funny, frustrating, giving, and loving. She would take in a stray animal as quick as she would take in a stray person. She taught me how to be a good person and instilled in me a sense of responsibility to my family and friends. I only hope that my daughter and I have the same relationship.