It's been a while since I participated in 5 Question Friday but I decided to link up today. Stop by
Mama M's
to join on in!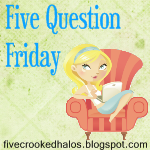 1. How many pets do you have?
One... and he's a
little devil of a dog
. I love him but don't like him most of the time. Why? Because he barks at everything, will leave us 'presents' out of spite, and basically hates everyone. Did I mention that he's also a
nervous tinklier
?
2.
If you could switch places with anyone in the world for one day, who would it be?
This is a toughie. There are lots of people who tell these unbelievable stories or make these wacky choices and I would love to be them for a day to know exactly what's going on.
3. What is your favorite money saving tip?
I try to wait a while before I make a purchase. If I forget about it then I didn't really want it. I also try to clip coupons but I'm super unorganized and forget to use them half the time.
4.
What do you want your kids to be when they grow up?
Happy and healthy. It doesn't matter to me what Abby is when she grows up as long as she's happy with who she is.
5. W
hat is your favorite quote?
There are a lot of quotes that I love but the one that I've used most often in life is... 'Sharing is caring.' Not sure where it came from (could be from Barney for all I know) but I've been using since my siblings were younger and would fight over toys. I still use it sometimes and they usually laugh or roll their eyes!