It's Friday so that only means one thing... time for Mama M's 5 Question Friday! As always, hop on over to her site to join in!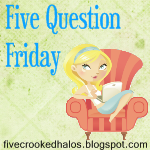 1. What do you think makes a good friend or friendship?
A good friend
2. What is the last thing you bought and later regretted?
This happens all of the time. Just this past week I bought labels that were too big, clothes for my husband that were too small, and sandals for my daughter that hurt her feet. All of that can be returned and is really small potatoes compared to our big regret. Our biggest purchase that we regret is our bedroom set. The dresser and night stands are discolored for no reason and the mattress slumps in the middle. It's only a couple years old and looked so pretty when we got it but none of it seems to be very good quality.
3. Have you ever had a prank played on you?
I can't remember anyone ever playing an elaborate one on me although I've played a few of my own. Hmm... I really can't think of one right now. I'll have to ask my husband later if he remembers any (my memory is not that good so I often tap into my husband's brain!).
4. What is your favorite theme part?
Wow, I haven't been to an amusement part in years! I used to love them, especially the roller coasters! I would have to say that Six Flags in New Jersey... the one with the Safari... was always my favorite.
5. Have you ever seen someone else give birth?
No way! I didn't even want to see myself give birth! I even made my husband promise he wouldn't look. That changed once I was actively pushing because at that point the last thing I was worried about was who was looking!
Have a great weekend!